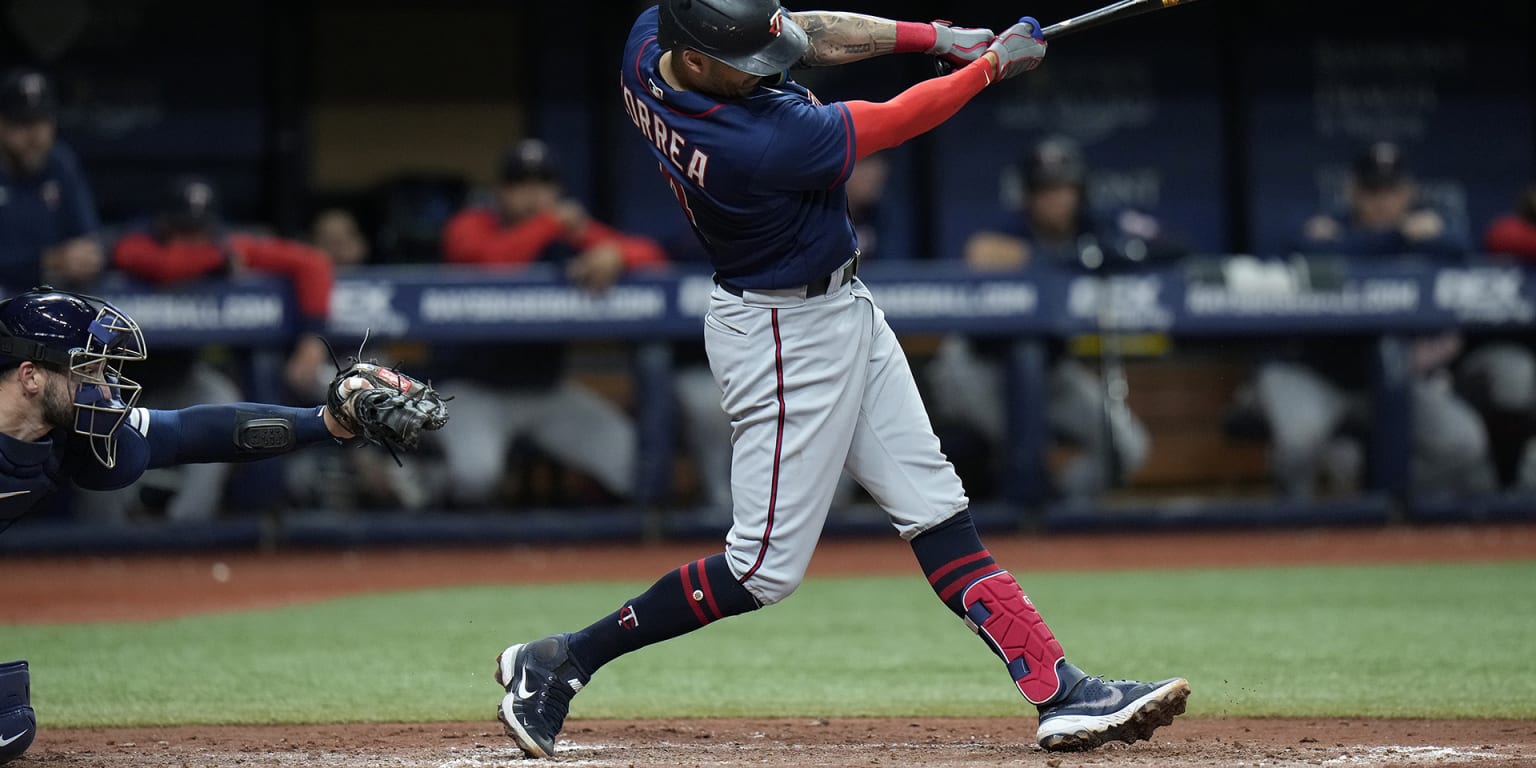 Carlos Correa's bat heats up, two hits, RBI vs. Rays
ST. PETERSBURG — Carlos Correa isn't focused on whether his batted balls find the outfield grass or not — though racking up a few hits, even in a 6-1 loss to the Rays at Tropicana Field, is a good bonus. All he cares about is how hard he hits the ball.
After his first three-hit game as a Twin on Thursday, including a two-goal run, Correa began his postgame interview by asking a question of the media gathered around him.
"What was that, 500 miles per hour out? Combined, over 500 miles per hour?" He asked.
Yeah, easily. ("It's a good day," he replied.) He didn't quite put together another 500-mile-per-hour day on Friday, but the box score was still pink, because two of his line drives landed for hits, giving him his first consecutive multi-hit games with Minnesota after a slow start to the season.
It looks like Correa's bat is finally starting to heat up, with five hits and four RBIs in two days – and he's confident that when he and the rest of the team finally synchronize their success, big things are in store. .
Friday was not that day, however. Correa's pair of singles showcased the meager resistance provided by the Twins' offense against familiar foe Corey Kluber and a pair of Tampa Bay relievers, who otherwise kept Minnesota completely silent in a loss that ended the Twins' seven-game winning streak, their longest since. 2011.
"I think the moment is the most important, and I think it's definitely happening right now," manager Rocco Baldelli said. seems pretty locked up, but we know he can get even more locked up."
Correa was at his low point entering Wednesday's game against the Tigers, his 0-for-10 slip having lowered his slant line to 0.167/0.254/0.250 to start his tenure with the Twins. But if we look at it the way Correa prefers to rate himself – based on how hard he hits the ball – you can see the underlying numbers show the improvement he wants.
Average exit speed, first six games: 91.8 mph
Average exit velocity, next six games: 91.7 mph
Average exit speed, six most recent matches: 94.9 mph
After hitting four balls over 100 mph on Thursday, Correa hit a 109.5 mph RBI single against Kluber on Friday as he recorded the Twins' first hit on the right-hander in the fourth inning.
"I definitely feel a lot more comfortable at home plate, a lot better," Correa said. "I just have to keep building on that. Today was a tough match for all of us. We tried to fight, but it was hard.
He and the Twins attribute those early problems almost entirely to shortened spring training. Since arriving in March, Correa has always described himself as a slow starter who needs the spring buildup to find his timing and feel the strike zone. The shortened spring and his late signing combined to push that adjustment period into the regular season, when any extended struggle is more amplified for the public – especially after a hot spring in which he went 7 for 20 with three circuits.
"I never had a chance for pitchers to adapt to what I was doing well, so they could attack other areas," Correa said. "Then I wasn't covering that part of the plate, then when the season started I was in trouble because I wasn't covering that and I couldn't practice in spring training. "
He was tough, though, and he noted over the past week that his timing had improved a lot and he felt like he was about to finally click the plate. He always knew it would take time to find himself, and he takes comfort in the fact that the Twins have always won due to the unexpected success of the starting rotation – with his usual Platinum Glove caliber defense playing a part. important. to help his teammates achieve that success on the mound.
He's been waiting nearly a month to show off the superstar skill set he hopes will bring the Twins back to the playoffs. He is convinced that it will manifest itself. He is ready.
"The way I see it is if I'm not performing and the team is still winning, imagine when I start performing," Correa said. "Then things will be a lot better, right? That's what keeps me going. That's what makes me hungry. That's what makes me wake up early and show up to the cage early for the first works.